Of Great Value
LDS stories for Young Women based on the eight Young Women Values.
Book two – A Divine Inheritance, is coming April 16th, 2013!
From the back cover:
For Dani Rodrìguez, growing up without a father has been hard, but her mom's new boyfriend, Anthony, is even worse. Now her mom has moved them to a new town to be close to Anthony and Dani is more lonely and isolated than ever. The only thing that makes her feel better is running track. It would be the perfect outlet if it weren't for Ethan, the obnoxiously happy and persistent senior. Ethan is constantly trying to get to know her, never taking no for an answer. But if he knew what her life was really like, would he still want to be her friend?
It will take a leap of faith for Dani to trust Ethan, but with things spiraling out of control at home, she may not have a choice. Their growing friendship starts her down a road she never thought possible and helps her to learn the divine nature within her. If only she could use this new knowledge to help her mother . . . before Anthony pushes things too far.
Book one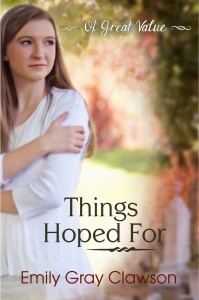 – Things Hoped For, is now available!!
From the back cover:
16 year old Fran Jensen has been a member of the LDS Church all her life. But her faith is deeply shaken when she loses her best friend, her sister Anna, to a horrible accident. Suddenly everything that she has always believed isn't so easy anymore. Her faith is rocky, at best, and her relationship with her family starts to crumble.  Only her friendship with Seth, a handsome young sculptor, offers her refuge from the pain that surrounds her. But Seth has his own tragedy to deal with. He has his own secrets and his own questions. As he begins his quest for answers, Fran wonders if their friendship will survive through their changing attitudes toward faith. When Seth's awful secret is revealed, Fran suddenly finds herself without an anchor. She has to decide to find out once and for all what she believes or risk losing everything  . . . and everyone that matters to her.

Things Hoped For is the first book in the Of Great Value series and focuses on Faith. Each book takes a girl on a journey as she discovers her testimony of one of the Young Women values.
Book 2 will be released at Easter, 2013. More details will be coming soon!