A NaNo State of Mind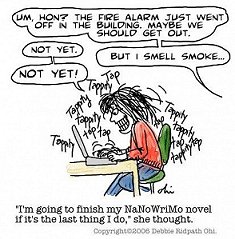 This has been a really strange November so far. For the first time in years I am not doing NaNoWriMo and it's been an interesting experience.
I've had some health issues including a surgery and nasty virus following it up that left me flat in bed for over a month. I decided several weeks ago that I was going to take a couple months off from serious writing. I'm still dabbling (I can't help it, can I?) but I'm not giving myself deadlines and pressure. I just physically can't handle it.
But now it's November and I see everyone's posts online about their word counts and their writing sprints and writing retreats and I kind of miss it. No, I really miss it. There is a camaraderie about November in the writing world. We're all in it together, working toward a goal. It feels really great to be involved in something that big.
On the other hand, something that J. Scott Savage said on Facebook has really stayed with me.
"I always have mixed feelings about NaNoWriMo. On the one hand, it's exciting to see people writing. On the other hand, I can't imagine Shakespeare going, "Ha, wrote 9500 words today!" Or Monet saying, "300 lily pads down. 400 to go." It just seems to be turning art into an accounting exercise."
He later followed it up with this:
"Okay, so I have thought a little bit more about why seeing the word count numbers posted everywhere makes me uncomfortable. To repeat, I am not against NaNoWriMo at all. This is not a diatribe against people taking part. Many of my best friends are doing it this year, and at least half of my awesome critique group. I LOVE seeing people writing who have been stuck for a while break out of their slumps, seeing people who haven't written at all finally take the leap, and seeing people who had felt burned out regain their enthusiasm for writing. I would never belittle that or look down in any way on people taking part in this event. I also don't look down on cranking out numbers. I've had deadlines where I wrote all night, powered by heavily caffeinated beverages to finish a story.

I think what makes me uncomfortable is that I am used to having conversations with my writer friends where we talk about a really great character that took over a story, a plot point that was totally hanging them up, but finally worked itself out in an unexpected and magical way, a voice that came clear, or a scene that just blew them away. We talk about our stories like our good friends, and it's such a kick to see books grow from an idea to a couple of pages, and finally a completed book with a cover, page numbers, and that cool formatting.

Seeing nothing but page counts takes all of that away. It's like for one month instead of talking about the funny things our kids did, the times they threw up on the living room floor, how well they did in their play, their sporting event, or their church talk, their scrapes, bumps, and bruises, defeats and triumphs, that all gets replaced with some statistic–like how many vegetables they ate, how much weight they gained, or the number of minutes they slept at night. The magic is gone.

So carry on. Write like crazy. Post the incredible word counts you're hitting. But when it's all said and done, I want to hear about the stories, the funny scenes, the plot twists, the awesome characters, the blood, guts, tears, and every other thing that makes a story a story and not just a number of words."
Forgive me for all the quoting. It was just a surprising thing for me to realize how much I had lost the spark of creativity over the last couple of years. Even when it wasn't November I was constantly in a NaNo state of mind. And that was one of deadlines and word counts and sales figures without remembering my love of the beauty of creating. Now all of those numbers are important and part of the package of being a writer, but I'm realizing just how much I want to get back to the joy of creating because it's beautiful and painful and stimulating and not like anything else in this world. It's why I became a writer in the first place.
So for that reason alone, I'm glad to not be doing NaNoWriMo this year. I'm just going to try to unearth some beautiful words, be they 100 or 100,000.
Let's create something.